A Comprehensive
Digital Marketing Agency
Custom Design Partners is a full scale online advertising agency that offers services specializing in digital marketing in Jacksonville, Florida. We offer both simple and comprehensive online strategies designed to make your business stand out and thrive online! We create optimized websites and online presences built to drive conversions and create strong sales relationships and authority in any industry. Our goal always has been and always will be to deliver effective online marketing strategies efficiently and affordably. We stand by our work and create sustainable internet marketing solutions.
We offer comprehensive solutions to help businesses overcome obstacles to generate sales and leads while maximizing ROI. Our professionals work one on one with clients to diagnose problems and execute efficient digital strategies. From pay per click, search engine optimization, brand awareness and website optimization, we have over 15 years of experience. Together, these aspects combine to create modern and functional lead generation and conversion tactics. Contact us to schedule a free consultation including audits and reports of your website and existing online strategies.
Marketing Strategy & Business Model Relation
Our marketing strategies integrate with your core business model to boost awareness of your brand and create new lifelong customers. Many online marketing companies still place so much emphasis on Search Engine Optimization (SEO) but we believe in creating end to end strategies that optimize the user experience while being delivered with friendly confidence. Having a beautiful brand for a great product is not enough to stand out in the modern world. Custom Design Partners has your best interests in mind and we love helping other businesses succeed online.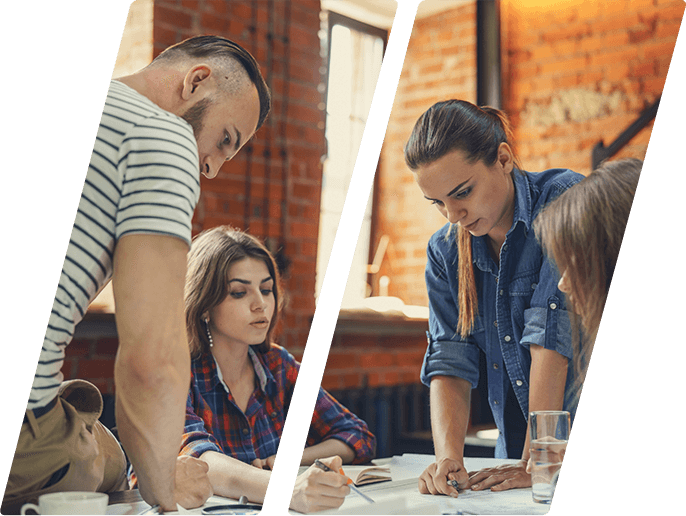 Why Our Customer Love US!

Megan Roselle
Google Reviewer
My boyfriend and I had Andrew design our personal training website. Our phone call was answered right away, & set up a time to go over what we wanted for our website. He did an amazing job with our website & he brought all of our visions to life. If you're looking for someone professional and someone that will get the job done I highly recommend this company!

Black Diamond
Google Reviewer
Custom Design Partners is the place to go we was in need of a Logo IMMEDIATELY!! We explained to Andrew the issues we were facing... Instead of giving us reasons on why the job couldn't be done like everyone else in the city was giving us. Andrew went out his way to make sure that the vision we wanted came alive and was a phenomenal product. Highly Recommended!!
Nick Smith
Google Reviewer
This team is fantastic - Love working with the gang! They communicate frequently, they work hard, are extremely knowledgeable and reliable. Thanks for all you do for our team!

Wendy Whitman
Google Reviewer
Custom Design Partners has changed my life! They are amazingly responsive and have created a professional website for me that is easy for my customers to use and functional for me. It looks beautiful! Since they revamped my site, my sales have increased and I have not had the technical problems that I had before. They are also available to help me with any questions or concerns and answer my emails promptly. I HIGHLY recommend Custom Design Partners!

Reganel Reeves
Google Reviewer
I needed a website for my law firm ASAP! Andrew got to work right away and made a clean and professional site for me right away! Every time I need a modification or edit, Andrew takes care of it for me! I highly recommend Custom Design Partners!

James Sikes
Google Reviewer
The Guys over at Custom Design really impress me with my website. They got right down to business. They delivered on time service and exceeded my expectation. Andrew and Kurt you guys are the best, I look forward to doing business again. Thanks!

Mojdeh Samimi
Google Reviewer
Custom Design Partners created a great website for Diamond Assisted Living & Memory Care. Custom Design Partners has a very professional and talented team, which is not only expert in its job, but also very cooperative with the customer. Customer's satisfaction is this company's goal. Therefore, you can be sure what you will receive is more than even what you wished for. This company's work is absolutely recommendable.

Kathleen Rhodes
Google Reviewer
Custom Design Partner have managed our website with huge success.
Barbara Newman
Google Reviewer
They are GREAT! Our business could not function with them. They handle all our needs and even problems that suddenly show up. I can call them anytime.We have enjoyed doing business with them for many years and are thankful we know them.

Noel Dawkins
Google Reviewer
These guys were very accommodating and patient during the process. Very competent people.

Luke Lokietek
Google Reviewer
Can't say enough about these guys. They built us an awesome high quality site based on our needs. These guys are the best, super responsive and very professional and a great price. Do yourself a favor and talk to Kurt and the guys. A+++
Marshal Wills
Google Reviewer
I have worked on several project with Custom Design Partners and each have exceeded expectations. Great company with even better customer support. They have helped our business grow to it's full potential and beyond. Would recommend to anyone trying to grow their business. Look forward to working more projects with them in the future.

Michael Benhayon
Google Reviewer
The team at CustomDesignPartners are very responsive and helped launch our financial lead generation campaigns. Our results were great, and if something needed to be fixed, it would be done immediately. Awesome digital marketing agency

Max Cohen
Google Reviewer
I'm usually not one for reviews, but after getting a website designed at CDP I felt I had to. Their professionalism, kindness, and dedication to their craft had me impressed from our very first meeting. Andy, Maggie, and Alex have a vision for their company that will align with yours. We will definitely be back for any of our SEO or website needs.

Florida Music Blog
Google Reviewer
Custom Design Partners has greatly increased traffic to our website and educated us on how to generate more high quality leads. This company does professional work quickly and is genuinely enthusiastic about helping their customers' businesses grow. Very knowledgeable in the areas of SEO, marketing, social media advertising and more.

My Content Guard
Google Reviewer
As a real estate agent, marketing is my biggest challenge. Custom Design Partners was the missing piece to the puzzle. They helped me refine and define my target demographics, advertise in front of qualified home buyers, and increase my client acquisition in this competitive housing market. 2 thumbs up!

Ibrahim
Google Reviewer
They add value to your business and go beyond expectations. Custom Design Partners are great partners.

Kurt "Alphahoff" Althoff
Google Reviewer
These guys do really great work and are price competitively. I highly recommend letting them show you how they can improve your business's footprint on the internet. They do it all and do it well.

C M
Google Reviewer
We hired CDP to increase lead generation and to develop collateral marketing campaigns. Their performance exceeded every expectation.

Chrystal Ransom
Google Reviewer
Andrew and team are the best. They really go out of their way to help you succeed. Very professional. Thank you!

Haze Collective
Google Reviewer
There services are really good! Have helped our business grow exponentially!

Zachary L
Google Reviewer
They really opened my eyes to a lot of things my small business was lacking, and got us on track with our search engine optimization.. highly recommended

Fbo Jets
Google Reviewer
Very professional and responsive!

Cymbalic Silva
Google Reviewer
Cool guys, super knowledgeable, would definitely recommend for their search engine optimization and other services.

Antony Shaji
Google Reviewer
Recommended for all Digital Marketing and IT support. Prompt and quality services.

A Shade Above Films
Google Reviewer
Online and digital marketing on point ! Definitely helps with getting business through the door

Rey L (Rey)
Google Reviewer
Very knowledge and quick to help. I was stuck paying the wrong people but C.D.P got me going in the right direction

Jen McKinnon
Google Reviewer
Highly recommend. Professional, fast service. Friendly staff.
Get a Free Personalized
Consultation Today!
Full-Service Digital Marketing Agency in Jacksonville, Florida. Decades of Combined Experience. Passionate About Our Clients.
Get In Touch
Let's get started with a free consultation. We're happy to answer all your questions!